Motorized Gas Bicycle Engine Repair Kit # 1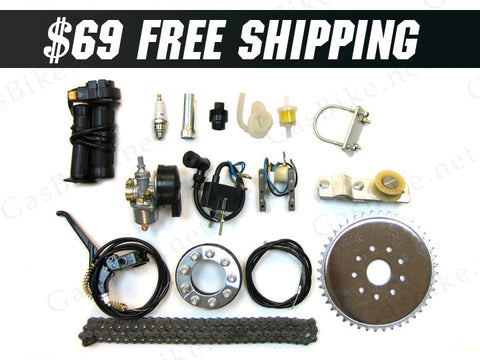 Motorized Gas Bicycle Engine Repair Kit # 1
Description:
Motorized Gas Bicycle Engine Repair Kit # 1
Free Shipping (Except for international shipments). Parts included are:
1. Spark Plug for 2-Stroke Engine
2. NT Carburetor
3. Universal Mount One Bolt
4. Idler Pulley Chain Tensioner, with 2 Bolts, With Bearing
5. #415 Heavy Duty Bike Chain
6. 44 Tooth Chain Sprocket
7. Pineapple Sprocket Bushing Kit
8. Fuel Line #2
9. Accelerograph Handle - Throttle Handle
10. Accelerograph Line - Throttle Line
11. Clutch Handle Complete Assembly
12. Sparker Wire Loop Set - Magneto
13. CDI (Coil)
14. Screw Tool
15. Head Bolt/Spark Plug Remover Tool
16. Paper Fuel Filter
Get Free Shipping! - Spend $39 or more on Bike Motor Parts and get free shipping on the parts in your order. Shipping charges will still apply to items from other categories.
* Orders received Monday - Friday by 3:00PM EST are eligible for
Same Day Shipping! Except for USPS which ships the next business day.
Our gasoline operated products are NOT compliant with Environmental Protection Agency ( E.P.A. ) or California Air Resources Board (C.A.R.B) for the use on/off Public roads. Upon purchase, the buyer agrees to use products for racing (closed-course competition) only and NOT for on/off public roads.