Stainless Steel Heavy Duty 66cc / 80cc Engine Screw Set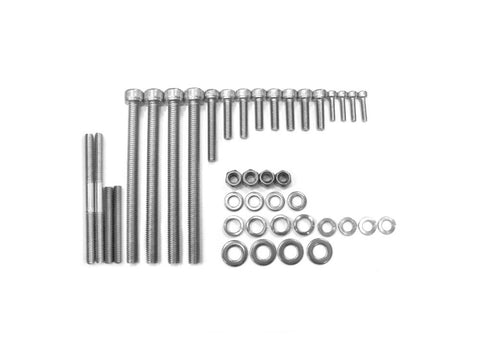 Stainless Steel Heavy Duty 66cc / 80cc Engine Screw Set
CNC-072
Description:
Stainless Steel Heavy Duty 66cc/80cc Engine Screw Set
Upgrade almost every bolt and stud with stronger stainless steel allen head hardware.
4 - Head Bolts M8mm x 100mm long - 1.25 pitch

4 - Head Bolt M8mm Flat Washers

4 - Head Bolt M8 Lock Washers

2 - Rear Motor Mount Stud M6 x 75.5mm Long - 1.0 pitch

2 - Front Motor Mount Studs M6 x 45mm Long - 1.0 pitch

4 - Neoprene Lock Nuts for Motor Mounts - 1.0 pitch

4 - Motor Studs M6 Flat Washers

4 - Motor Studs M6 Lock Washers

3 - Sprocket Cover Bolts M6 (1 Long 40mm, 2 Short 24mm) - 1.0 pitch

5 - Gear Case Cover Bolts M6 x 20mm - 1.0 pitch

4 - Magneto Electric Cover Bolts M4 x 16mm Long 0.7 pitch
* Orders received Monday - Friday by 3:00PM EST are eligible for
Same Day Shipping! Except for USPS which ships the next business day.
Our gasoline operated products are NOT compliant with Environmental Protection Agency ( E.P.A. ) or California Air Resources Board (C.A.R.B) for the use on/off Public roads. Upon purchase, the buyer agrees to use products for racing (closed-course competition) only and NOT for on/off public roads.