Super Charge CDI for 48cc 66cc 80cc - High Performance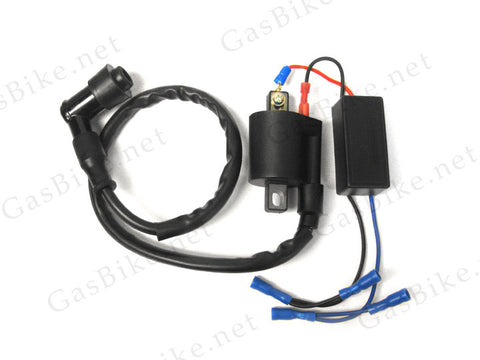 Super Charge CDI for 48cc 66cc 80cc - High Performance
Description:
Super Charge CDI for 48cc 66cc 80cc - High Performance
What you need is more spark. This easy installation will give your motor the power it craves. Unit comes fully assembled, just plug the black to black and the blue to blue to the motor (magneto wires). The extra port is so you can quickly hook up your kill switch (Doesn't matter which wire you use for a kill switch, 1 to black, one to blue). Do not ground the unit, thim may damage.
- High-Performance Part
- Easy, fast, secure installation
Get Free Shipping! - Spend $35 or more on anything and get free shipping on the parts in your order. Shipping charges will still apply to items from other categories.
* Orders received Monday - Friday by 12:00nn PT are eligible for
Same Day Shipping! Except for USPS which ships the next business day.
Our gasoline operated products are NOT compliant with Environmental Protection Agency ( E.P.A. ) or California Air Resources Board (C.A.R.B) for the use on/off Public roads. Upon purchase, the buyer agrees to use products for racing (closed-course competition) only and NOT for on/off public roads.