44 Tooth CNC Sprocket & Adapter Assembly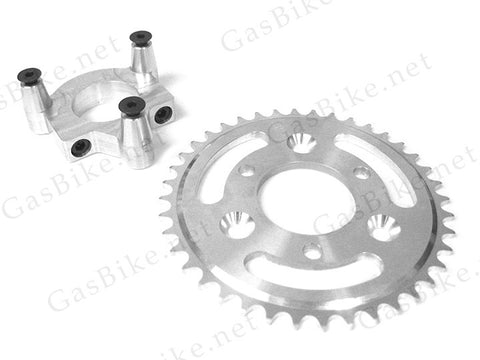 44 Tooth CNC Sprocket & Adapter Assembly
CNC-006-3
Description:
44 Tooth CNC Sprocket & Adapter Assembly
High-performance parts. Superior quality.
This unit solves the most basic problem with most kits, sprocket alignment. Make the sprocket run true by mounting directly to the hub, not the spokes. The unit should be installed loosely on the hub to allow the unit to slide in and out to find perfect alignment, then tighten and lockdown.
Made of CNC aluminum for superior quality and performance.
Available in 3 hub sizes:
1.0 inch - For Freewheel Hubs

1.5 inch - Most Coaster Brake Hubs (CB-110 and HiStop)

1.8 inch - Larger Hubs
* Orders received Monday - Friday by 12:00 noon PT are eligible for
Same Day Shipping! Except for USPS which ships the next business day.
Our gasoline operated products are NOT compliant with Environmental Protection Agency ( E.P.A. ) or California Air Resources Board (C.A.R.B) for the use on/off Public roads. Upon purchase, the buyer agrees to use products for racing (closed-course competition) only and NOT for on/off public roads.