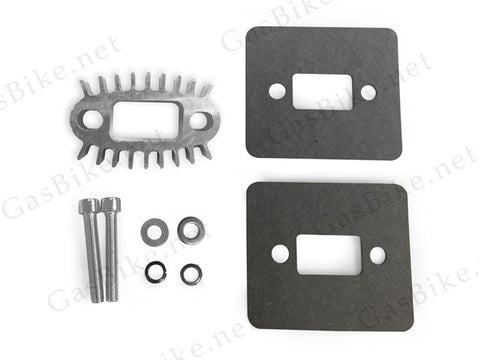 X-Port 66cc 80cc
Description:
CC X-Port
The Large CC X-Port is a billet exhaust manifold that will increase your low end torque on any type of exhaust you may have on your motor. You will get the "header" effect when adding it to your stock muffler. Increases torque and low end power will be noticed. The X-Port will move your current exhaust out further than it is now, allowing to have more clearance on your pedals.
Specification:
Made in the USA
Package includes:
2 gaskets
2 bolts and washers
1 CC X-Port
To view dimensions, please click image below.
Get Free Shipping! - Spend $35 or more on anything and get free shipping on the parts in your order. Shipping charges will still apply to items from other categories.
* Orders received Monday - Friday by 12:00nn PT are eligible for
Same Day Shipping! Except for USPS which ships the next business day.
Our gasoline operated products are NOT compliant with Environmental Protection Agency ( E.P.A. ) or California Air Resources Board (C.A.R.B) for the use on/off Public roads. Upon purchase, the buyer agrees to use products for racing (closed-course competition) only and NOT for on/off public roads.