2010 Grubee SkyHawk 4G T-Belt Transmission Kit-V Mount For 4-Stroke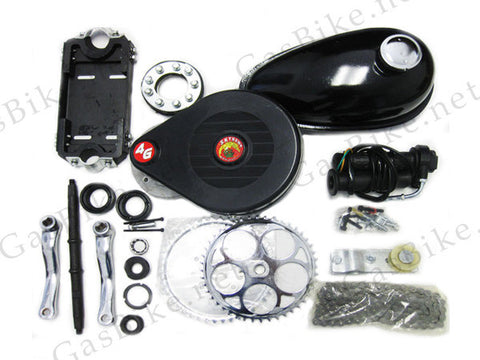 2010 Grubee SkyHawk 4G T-Belt Transmission Kit-V Mount For 4-Stroke
Description:
2010 Grubee SkyHawk 4G T-Belt Transmission Kit-V Mount for 4-stroke engines (HuaSheng 142F-1CC and Honda GXH50) (ENGINE NOT INCLUDED)
The V Mount Transmission Kit includes:
Belt Drive Transmission Assembly
2 Liter Tear Drop Gas Tank
Drive Chain
Engine Mount Bracket
Throttle & Engine kill Switch
Chain Idler
Wide pedal crank kit
50T or 44Tsprocket kit


 

 
Free technical support within one (1) week after receiving the kit
Same Day Shipping! Except for USPS which ships the next business day.

 


We can ship to PO BOXES at this time. Through UPS we offer many shipping methods and for International and Canadian shipping we suggest UPS STANDARD, (2-6 days; does not cover Customs Brokerage, Duties, and Taxes… these are charged to the consignee on delivery). We have found that this is the cheapest way to send packages to Canada. Skills & Experience: The buyer may need some basic hardware skills, tools, and it takes roughly around 2-3 hours to install and to do some adjustments and fine tuning. Notices & Disclaimer:
We cannot guarantee that this kit will fit your specific individual bike(s).
Operating a bike, motorized bicycle or bike with a bicycle engine kit installed involves some risk of serious bodily injury. Buyer accepts responsibility for any and all vehicle operation that may lead to personal injury, economic loss, social distress, other losses, costs and damages.
Seller is not responsible for injuries and/or damages resulting from operating this motorized bicycle or bicycle engine kit.
Seller is not responsible for misuse of this kit or any warranty after installation.
Not all motorized bicycles are allowed for on road use.
We make no guarantee as to the road legality of these bike motors.
Our gasoline operated products are NOT compliant with Environmental Protection Agency ( E.P.A. ) or California Air Resources Board (C.A.R.B) for the use on/off Public roads. Upon purchase, the buyer agrees to use products for racing (closed-course competition) only and NOT for on/off public roads.