Raw 500W Electric Chopper Bicycle Bike Motorized Motor (Free Shipping)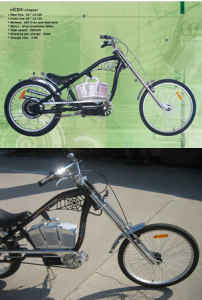 Raw 500W Electric Chopper Bicycle Bike Motorized Motor (Free Shipping)
Description:
Raw 500W Electric Chopper Bicycle Bike Motorized Motor- Description
Ride in style! Our Raw Motors Electric Bike is equipped with a DC brushless geared hub motor and a plug-and-play 500W rechargeable battery. Far cleaner than gas-powered scooters or even hybrid cars. The battery offers a range of 25-30 miles per charge, far longer than anything this size in the market. So you can make it back and forth to the grocery store several times without running low on power. And once you're on the road, a top speed of 25 miles per hour (contingent on the rider weight)--plenty fast enough for most side streets. Is the market too far to walk but close enough that a car seems wasteful? The bike is powered by both the electric motor and good old-fashioned foot power, with an easy-to-use twist throttle helping propel you forward. The bike is also extremely comfortable thanks to the GS comfort suspension saddle. Other features include a UL-listed Charger with an LED status display, alloy linear pull front brakes and DiaCompe band rear brakes, and alloy handlebars with Kraton grips.
Our Shipping Special Promo is for the lower 48 states only and does not cover Canada or International shipping costs.
Features:
Black Electrical Chopper
48V Battery
Alloy Brushless 500w Motor
High Speed - 25 MPH
Distance Per Charge - 25 Miles
Charge Time 4 - 6 Hours
Rear Tire Size - 24" x 4.125
Front Tire Size - 26" x 2.125
Our gasoline operated products are NOT compliant with Environmental Protection Agency ( E.P.A. ) or California Air Resources Board (C.A.R.B) for the use on/off Public roads. Upon purchase, the buyer agrees to use products for racing (closed-course competition) only and NOT for on/off public roads.