Ghost Racer 7G T-Belt Drive V-Mount Engine Kit Special Edition With Hu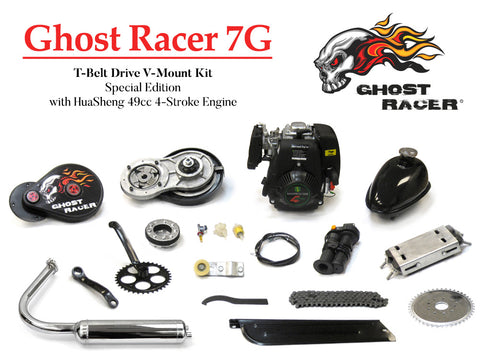 Ghost Racer 7G T-Belt Drive V-Mount Engine Kit Special Edition With HuaSheng 49cc 4-Stroke
Description:
NOTE: If you have a bicycle with a one-piece crank, you will need to buy a bottom bracket conversion kit separately. Please select the option above.

*Bicycle not included with this kit.
Ghost Racer 7G T-Belt Drive V-Mount Kit Special Edition with HuaSheng 49cc 4-Stroke Engine
This kit features a 49cc HuaSheng motor with Clutch Flyweight for 5/8 Keyed Shaft. Using a belt drive single speed transmission for smooth acceleration. This kit includes a 2 piece wide crank kit, if the bike has a 1 piece crankset a conversion bottom bracket will need to be used (not included).
4 Stroke engine kits are very different from 2 stroke kits in many ways. Building a 4 stroke bike is a little more involved then the two strokes, the extra effort is worth it. Pull start engine, not push start like the 2 strokes. Overall this type of engine is more reliable with more power and torque. With some of the larger cc motors, the top speeds far exceed the 2 strokes. Since these motors are larger in cc they are also larger in size and weight. Almost all bicycles will need to use a wider crank setup to clear the motor, the stock arms and pedals will hit the motor when pedaled as a regular bike. One piece cranks will also require a bottom bracket conversion set as well (not included).
This style of the engine might need slight modification to the bikes and will not fit all frames.
Advantages of 4 Stroke Bicycle engine kits:
Use straight gas (no mixing oil with gas)

More Horsepower

More Torque

Quieter Engine
Click here for the Instruction Manual

This 4-Stroke Kit includes::
HuaSheng 49cc with 5/8" Straight Shaft Engine (4-Stroke)
100 Tooth Belt Transmission for Keyed Shaft
Chrome Muffler
2.5 L Gas Tank
Gasoline Tank Switch (AL)
Fuel Line #2
Fuel Filter
Improved Wide Pedal Crank
44 Tooth Sprocket
Pineapple Bushing
Accelerograph Throttle Handle
Throttle Cable 50"
Mounting Plate
415 Heavy Duty Chain
Idler Pulley Chain Tensioner
Chain Guard
Belt Remover/Adjusting Tool


MOTOR SPECS:
Engine Type: Air-cooled 4-Stroke OHV Single Cylinder
Max Power(kw/r/min): 1.5 KW / 2 HP / 6800
Fuel Consumption(g/kw·h): ≤480
Fuel Consumption(L/h): 0.78
LWA(dB(A)): 101
Net Weight(kg): 7
Displacement(cc): 49.1
Oil Capacity(mL): 250
Ignition System: TCI
Compression Ratio: 7.4
Carburetor: Float
Starting System: Recoil
Approximate Dimensions: Height - 9 1/2", Width - 11", Length - 9"


Our gasoline operated products are NOT compliant with Environmental Protection Agency ( E.P.A. ) or California Air Resources Board (C.A.R.B) for the use on/off Public roads. Upon purchase, the buyer agrees to use products for racing (closed-course competition) only and NOT for on/off public roads.
If you need help with installation or troubleshooting, kindly use our Builder Locator to find builders near you. Builders are experts with motorized bicycles.