Black Stallion 66cc/80cc Angle Fire Slant Head Bicycle Engine Kit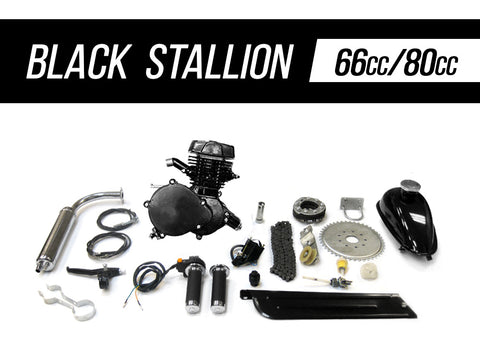 Black Stallion 66cc/80cc Angle Fire Slant Head Bicycle Engine Kit
2EK-027
Description:
NOTE: Top end assembly required for this engine kit.
Black Stallion 66cc/80cc Angle Fire Slant Head Bicycle Engine Kit
How to Install The Top End of a 80cc 66cc 48cc 2-Stroke Bicycle Engine Kit


Convert your bicycle to a motorized bicycle by adding a 2 stroke engine kit to it. The kit fits best on bikes with 25 to 30mm diameter front down tube and 70 degree Vee type frame like a mountain bike but can be installed on larger diameter tube frames with modifications. "Looks Cool" on the older beach cruiser type coaster brake bikes. The motor bolts to the bicycle frame in the center of the frame (additional mounting options available). A second Heavy Duty chain is attached from the motor to the rear wheel via a second sprocket attached to the rear wheel.
Starting:
2 stroke motor kits are started by "bump" starting them. While holding in the clutch, pedal the bike quickly. When you release the clutch after the bike gets to speed, it push starts the motor.
The kit will average around 25-35 M.P.H depending on rider weight and rear sprocket gear ratio.
Gas Mixture
This bike motor kit comes with everything that you'll need except gas and oil, since this is a 2 stroke, 2 stroke oil needs to be added to the fuel. Always mix gas in a gas can, not the gas tank. When the engine is new, it would need to be broken in with a richer mixture, after at least 1 tank of gas, then the mix can be "leaned out" (less oil). Never go less than 32:1 ratio (4oz of oil per Gallon).
New Motor - 16:1 (8 oz of oil per gallon)

After Broken in - 32:1 (4 oz of oil per gallon)
You will be able to stop or start the engine as you ride. This kit gets maximum fuel efficiency stock at around 100 miles per gallon.
Looking at new bicycle motor engine kits? Do you have the right bike or bike frame to add a new bike motor? If not we took the guessing game out of it and we have over 7 options for you to customize your ride with frame colors, HP, engine block color and warranty. Want an all black bike frame and black motor? We have that option here and more. See our motorized bicycles and create your perfect ride today!
How to Install 80cc 66cc 48cc 2-Stroke Bicycle Engine Kit
This bike motor kit includes:
Black Stallion 66cc/80cc Angle Fire Slant Head Engine 2.75 HP
Friction Clutch; Pedal Start
Magneto With Solid State CDI Ignition
44Tooth, 9 Hole Chrome Sprocket
3 Plate Sprocket Kit
2.0 Liter Fuel Tank, Tear Drop Shape (Black Color)
Chrome Muffler
Push Button Clutch Lever And Cable
Twist Throttle With Engine Kill Switch
Improved Gas Valve
Fuel Line #2
Idler Pulley Chain Tensioner with Bearings
Improved NT Carburetor
Head With Center Fire Spark Plug
202 Crankcase Bearings
Needle Bearings On Piston Wrist Pin
Improved 415 Chain
Chain Guard
Tool Kit
All The Mounting Brackets, Gaskets, And Hardware Including Nylon Locking Nuts
Universal Motor Mount
Complete User Manua
6-Month Limited Warranty Included - FREE
Bicycle Requirements:
This bicycle motor engine kit fits most Mens 24" and larger bicycles which includes mountain, cruiser, chopper and road bikes with a V-frame with at least a 8.5" height clearance for the engine. Larger frame size requires drilling into bike frame and use of the universal face plate.
Dimensions:
This 66cc/80cc bicycle motor engine kit is about 8.5" height 7" length 5" width and fits on most standard 24" – 26" or 25mm 29mm frame bicycle frame tubes. Larger frame size requires drilling into the bike frame and use the universal face plate. This engine kit only adds about 20 lbs to your bike.
* Orders received Monday - Friday by 3:30 PM PST
are eligible for Same Day Shipping!

We Cannot ship to PO BOXES at this time.
Through UPS we offer many shipping methods and for International and Canadian shipping we suggest UPS STANDARD, (2-6 days; does not cover Customs Brokerage, Duties, and Taxes… these are charged to the consignee on delivery). We have found that this is the cheapest way to send packages to Canada.
Gas And Oil Mixture For Fuel Ratio: (Use of a synthetic 2 stroke oil is recommended.)

The bicycle motor engine kit is a 2 cycle design, therefore, a gasoline/oil mixture is necessary. During the break-in period (1st 4 tanks of fuel, the ratio is 16 to 20 parts gasoline to 1 part 2 cycle oil. After the break-in period, the ratio is increased to 20 to 25 parts gasoline to 1 part oil. The engine crankshaft bearings are lubricated from the oil in the gas mix. A rich break in oil mixture ensures bearings will not cease during engine break in period.
Skills & Experience:
The buyer may need some basic hardware skills, tools, and it takes roughly around 2-3 hours to install and to do some adjustments and fine tuning.
Notices & Disclaimer:
We cannot guarantee that this kit will fit your specific individual bike(s).
Operating a bike, motorized bicycle or bike with a bicycle engine kit installed involves some risk of serious bodily injury. Buyer accepts responsibility for any and all vehicle operation that may lead to personal injury, economic loss, social distress, other losses, costs and damages.
Seller is not responsible for injuries and/or damages resulting from operating this motorized bicycle or bicycle engine kit.
Seller is not responsible for misuse of this kit or any warranty after installation.
Not all motorized bicycles are allowed for on road use.
We make no guarantee as to the road legality of these bike motors.
Disclaimer: Down through the years China bike engine factories have always advertised their biggest engine as 80cc therefore we have listed them the same way on our website. However, the bore and stroke of an 80cc being 47x38mm only equals 66cc. Therefore there is no such thing as an 80cc bike motor and it truly does not exist and we want to make sure that you are aware of this.
Our gasoline operated products are NOT compliant with Environmental Protection Agency ( E.P.A. ) or California Air Resources Board (C.A.R.B) for the use on/off Public roads. Upon purchase, the buyer agrees to use products for racing (closed-course competition) only and NOT for on/off public roads.