eZip 450 Gas & Electric Scooter (Free Shipping)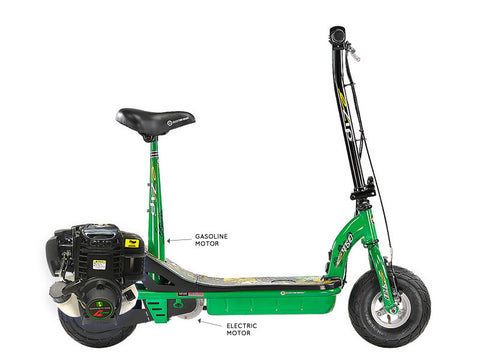 eZip 450 Gas & Electric Scooter (Free Shipping)
Description:
eZip 450 Gas & Electric Scooter (Free Shipping)
The Gas Engine must be installed to the scooter. See instruction manual below.

Click here for the Instruction Manual


This product comes with the complete eZip 450 Electric Scooter and the 4-Stroke Gas Conversion Kit. With this conversion kit, you can switch from electric powered to gas powered or vice versa with ease. Easy to install, very reliable and very affordable.
4-Stroke Gas Conversion Kit includes:
HuaSheng 38cc with Centrifugal Clutch Engine (4-stroke)
55 Tooth Sprocket
Chain ( # 25 – 70L )
Engine Bracket
Spacer
Throttle Handle with Kill Switch
Throttle Cable 75"
Clamp ( 1 set of M5 bolt and Nut )
(4) M6 Bolts ( Bracket Bolts )
(3) M5 Bolts ( Sprocket Bolts)


MOTOR SPECS:

 

 
Displacement(cc): 38 cc
Max Output(kw/r/min): 1.0/6500
Fuel Consumption(g/kw,h): ≤480
Net Weight(kg): 3.8
P.T.O: clutch
Fuel Volume(L): 0.65
Package Dimension(inches): 10.2" x 9.65" x 9.65"

 




KEY FEATURES
450W of Performance Power
Speed up to 15 mph / 24 km (Rider Weight and Terrain Contingent)
Range up to 8 Miles / 13 km (Rider Weight and Terrain Contingent)
Aggressive Powerboard Design
Alloy Wheels with Fat 10" Tires
Powerful Front Linear Pull Brake System
MOTOR
450W of Power from a DC Earth Magnet
BATTERY
EV Rated SLA Type, Plug and Play Design in Nylon Handled Pack, 24V10Ah 240Wh Pack, consisting of 2 x 12V10Ah Valve Regulated, Rechargeable Cells
CHARGE SYSTEM
UL Listed Currie Smart Charger with LED Status Display
CONTROLLER
Exclusive Currie PWM Smart Power Microprocessor 24 Volt Fully Potted with Relay Protection and Battery Gauge
TOP SPEED
Up to 15 mph / 24 km/h (Rider Weight and Terrain Contingent)
RANGE
Up to 8 Miles / 13 km (Rider Weight and Terrain Contingent)
DRIVE
Patented Currie Electro-Drive® - Chain Drive System
BRAKES
Front Linear Pull Brake and Alloy Motor Inhibit Lever
WHEELS
Currie Exclusive Alloy Wheels
TIRES
Currie Low Profile Street Slick Tires 10"
HANDLEBARS
Exclusive Currie Folding Design
FORKS
Unicrown Design with Oversteering Limit and Linear Pull Brake
USER CONTROLS
Power On/Off Switch, Easy Access Charger Port in Frame Console
DECK
Non-Slip ABS Resin with In-Mold Graphics and Brand Logo Badge
FRAME
Hi-Ten Steel, Heavy Duty with One-Piece Steel Tooled Battery Box and Oversized Head Tube
SEAT KIT
Easy On/Off Seat Kit Included
NET WEIGHT
52 lbs / 24 kg
RIDER AGE & WEIGHT LIMIT
Ages 13+ / Do Not Exceed 240 lbs
BATTERY LIFE
200 Cycles
CHARGE TIME
6-8 Hrs
Our gasoline operated products are NOT compliant with Environmental Protection Agency ( E.P.A. ) or California Air Resources Board (C.A.R.B) for the use on/off Public roads. Upon purchase, the buyer agrees to use products for racing (closed-course competition) only and NOT for on/off public roads.