Jeet Racing 80cc Bicycle Engine Kit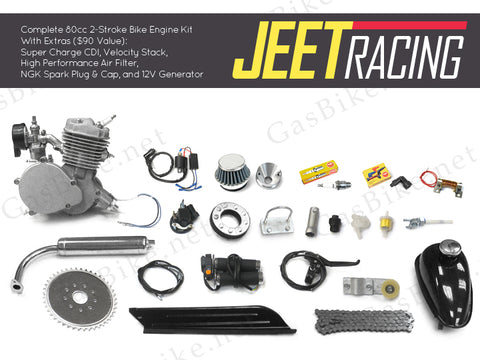 Jeet Racing 80cc Bicycle Engine Kit
Description:
NOTE: Top end assembly required for this engine kit.
How to Install The Top End of a 80cc 66cc 48cc 2-Stroke Bicycle Engine Kit


Convert your bicycle to a motorized bicycle by adding a 2 stroke engine kit to it. The kit fits best on bikes with 25 to 30mm diameter front down tube and 70 degree Vee type frame like a mountain bike but can be installed on larger diameter tube frames with modifications. "Looks Cool" on the older beach cruiser type coaster brake bikes. The motor bolts to the bicycle frame in the center of the frame (additional mounting options available). A second Heavy Duty chain is attached from the motor to the rear wheel via a second sprocket attached to the rear wheel.
Starting:
2 stroke motor kits are started by "bump" starting them. While holding in the clutch, pedal the bike quickly. When you release the clutch after the bike gets to speed, it push starts the motor.
The kit will average around 25-35 M.P.H depending on rider weight and rear sprocket gear ratio.
Gas Mixture
This bike motor kit comes with everything that you'll need except gas and oil since this is a 2 stroke, 2 stroke oil needs to be added to the fuel. Always mix gas in a gas can, not the gas tank. When the engine is new, it would need to be broken in with a richer mixture, after at least 1 tank of gas, then the mix can be "leaned out" (less oil). Never go less than 32:1 ratio (4oz of oil per Gallon).
New Motor - 16:1 (8 oz of oil per gallon)

After Broken in - 32:1 (4 oz of oil per gallon)
You will be able to stop or start the engine as you ride. This kit gets maximum fuel efficiency stock at around 100 miles per gallon.
The Motor will require some assembly, the top end of the motor must be installed.
*Minimal assembly required.
What's inside the box?:
Jeet Racing 80cc Bike Motor. 2.75 HP
With Extra Super Charge CDI. $19 VALUE!
With Extra Velocity Stack. $15 VALUE!
With Extra High Performance Air Filter. $15 VALUE!
With Extra NGK Spark Plug. $6 VALUE!
With Extra NGK Cap. $6 VALUE!
With Extra 12V Generator. $25 VALUE!
Friction Clutch; Pedal Start
Magneto With Solid State CDI Ignition
44Tooth, 9 Hole Chrome Sprocket
3 Plate Sprocket Kit
2.0 Liter Fuel Tank, Tear Drop Shape (Black Color)
Chrome Muffler
Push Button Clutch Lever And Cable
Twist Throttle With Engine Kill Switch
Improved Gas Valve
Fuel Line #2
Idler Pulley Chain Tensioner with Bearings
Improved NT Carburetor
Chrome Lined Cylinder Wall
Head With Center Fire Spark Plug
202 Crankcase Bearings
Needle Bearings On Piston Wrist Pin
Improved 415 Chain
Chain Guard
Tool Kit
All The Mounting Brackets, Gaskets, And Hardware Including Nylon Locking Nuts
Universal Motor Mount
Complete User Manual
6-Month Limited Warranty Included - FREE
How to Install 80cc 66cc 48cc 2-Stroke Bicycle Engine Kit
Gasoline operated products are NOT compliant with Environmental Protection Agency ( E.P.A. ) or California Air Resources Board (C.A.R.B) for the use on/off Public roads. Upon purchase, the buyer agrees to use products for racing (closed-course competition) only and NOT for on/off public roads.