212cc Death Row Bike Engine Kit - 4-Stroke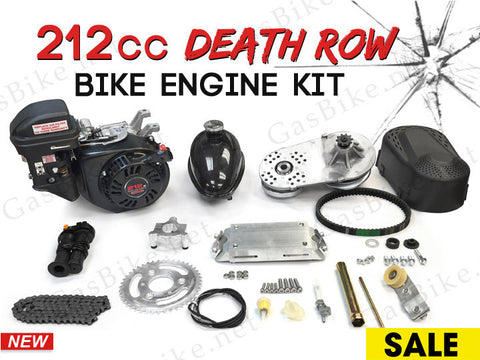 212cc Death Row Bike Engine Kit - 4-Stroke
Description:
212cc Death Row 6.5 HP Bike Engine Kit - 4-Stroke
NOTE: We suggest using 29" bicycles for this kit. It may fit on a 26" but you need the Shorthead. It will be difficult to install and you need to be an expert if you go with 26" bicycles.
This is our biggest, baddest, most intense kit we have ever offered so far. A monster 212cc Predator engine. Using a torque converter single speed belt transmission mounted with an all CNC engine mount. The kit is also upgraded with a CNC sprocket adapter and sprocket for perfect rear wheel motor chain alignment. This kit will not fit most bikes, this is an expert level build and is not suggested for the beginner.
4 Stroke engine kits are very different from 2 stroke kits in many ways. Building a 4 stroke bike is a little more involved then the two strokes, the extra effort is worth it. Pull start engine, not push start like the 2 strokes. Overall this type of engine is more reliable with more power and torque. With some of the larger cc motors, the top speeds far exceed the 2 strokes. Since these motors are larger in cc they are also larger in size and weight. Almost all bicycles will need to use a wider crank setup to clear the motor, the stock arms and pedals will hit the motor when pedaled as a regular bike. One piece cranks will also require a bottom bracket conversion set as well (not included).
This style of the engine might need slight modification to the bikes and will not fit all frames.

Advantages of 4 Stroke Bicycle engine kits:
Use straight gas (no mixing oil with gas)

More Horsepower

More Torque

Quieter Engine
This 212cc 6.5 HP 4-Stroke Kit includes:
212cc Predator Engine 6.5 HP
2.0 L. Gas tank
Torque converter transmission W/ Black Cover
CNC Engine mount
CNC Sprocket & adapter assembly ( 36, 40, 44 tooth) choose one in the options tab on the top
Throttle Handel W/ kill switch
415 Heavy duty chain
Fuel line
Fuel filter
Spark plug remover
Chain tensioner
Muffler (Might need modifications.) 
ENGINE SPECIFICATIONS - 212cc OHV Horizontal Shaft 6.5 HP Gas Engine:
Diameter: 70mm
Horsepower (hp): 6.5
Maximum (rpm): 3600 RPM
Maximum Torque (ft. - lbs.): 8.1 ft-lbs. @ 2500 RPM
Mounting pattern: 162mm L x 75.5mm W - 80.5mm W (6.40" L x 2.95" W - 3.17" W )
Shaft rotation direction: Counterclockwise
Sound rating (dB): 104 dB
Start type: Recoil
Product Height: 9 inches.
Product Length: 12-1/2 inches.
Product Weight: 37.5 lbs. / 17 kg
Product Width: 14-1/2 in.
Shaft length (in.): 2.43" / 61.7 mm
Shipping Weight: 38.72 lb.
Stroke length (in.): 55 mm
NOTE: THIS ENGINE KIT IS FOR EXPERTS ONLY. NO MANUAL INCLUDED.

*Bicycle not included with this kit.


Our gasoline operated products are NOT compliant with Environmental Protection Agency ( E.P.A. ) or California Air Resources Board (C.A.R.B) for the use on/off Public roads. Upon purchase, the buyer agrees to use products for racing (closed-course competition) only and NOT for on/off public roads.