Gas Conversion Engine Kit for eZip Electric Scooters (Free Shipping)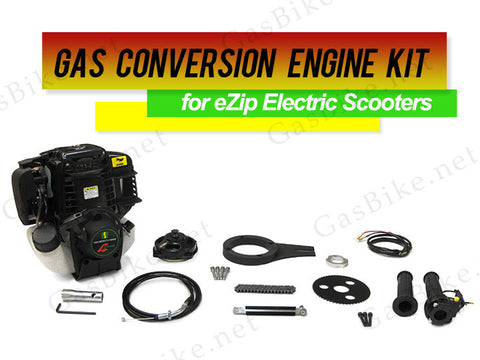 Gas Conversion Engine Kit for eZip Electric Scooters (Free Shipping)
Description:
Gas Conversion Kit for eZip Electric Scooters (Free Shipping)
Click here for the Instruction Manual
Turn your eZip Electric Scooter 4.5 and 450 models into a Hybrid/Gas Scooter! With this conversion kit, you can switch from electric powered to gas powered or vice versa with ease. Easy to install, very reliable and very affordable.

You can also turn your eZip Electric Scooter 500 and 750 model to a Gas Scooter ONLY.

This 4-Stroke Gas Conversion Kit includes::
HuaSheng 38cc with Centrifugal Clutch Engine (4-stroke)
55 Tooth Sprocket
Chain ( # 25 – 70L )
Engine Bracket
Spacer
Throttle Handle with Kill Switch
Throttle Cable 75"
Clamp ( 1 set of M5 bolt and Nut )
(4) M6 Bolts ( Bracket Bolts )
(3) M5 Bolts ( Sprocket Bolts)
MOTOR SPECS:
Displacement(cc): 38 cc
Max Output(kw/r/min): 1.0/6500
Fuel Consumption(g/kw,h): ≤480
Net Weight(kg): 3.8
P.T.O: clutch
Fuel Volume(L): 0.65
Package Dimension(inches): 10.2" x 9.65" x 9.65"


Our gasoline operated products are NOT compliant with Environmental Protection Agency ( E.P.A. ) or California Air Resources Board (C.A.R.B) for the use on/off Public roads. Upon purchase, the buyer agrees to use products for racing (closed-course competition) only and NOT for on/off public roads.