Grubee SkyHawk 4G T-Belt Drive Rear Mount Kit With HuaSheng 49cc Engin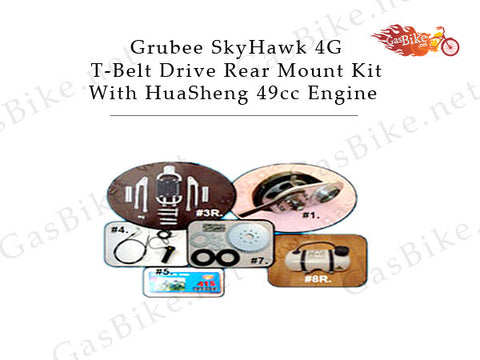 Grubee SkyHawk 4G T-Belt Drive Rear Mount Kit With HuaSheng 49cc Engine
Description:
Grubee SkyHawk 4G T-Belt Drive 49cc Gas Bike Motor Kit
This top-of-the-line Grubee brand 49cc bike motor kit comes in a V-Frame mount option or as a rear mount. With this kit you'll be able to convert your bicycle into a gas-powered motorized bike. These 4G T-Belt can be installed on almost any mens bike, mountain bikes or beach cruiser. The V-Frame mount fits 26" beach cruiser bikes and most 20" to 26" mens bike can work for the rear mount. This 4G T-Belt Drive motor has the advantage of no oil contamination and no gear noise.
HuaSheng 4-Cycle 49cc Motor Specs:
No load RPM: 8500 Cooling: Forced Air
Displacement bore & stroke: 41.8 x 35.8
Power: 10.2KW @6800 rpm
Torque: 2.4Nm @4500 rpm
Engine net weight: 5.2 kg
Length x width x height: 247 mm x 225 mm x 335 mm
PTO shaft rotation: CCW centrifugal clutch
Crankcase oil change: 50 hours after change, first at 10 hours operation
Rear mount engine has closed loop fuel system. V-Frame mount does not


 

The V-Frame Kit includes:

 

 
Belt Drive Transmission Engine
Gas Tank
415 Chain
Engine Mount
Throttle & Cable
Idler
3 pieces wide pedal crank, fits big or small hole
50T clamp to spokes sprocket


 

The Rear Mount Kit includes:

 

 
Belt Drive Transmission Engine
Plastic Gas Tank
415 Chain
Rear Rack Engine Mounting Bracket
Throttle & Cable
50T clamp to spokes sprocket
DISCLAIMER: IT IS THE CUSTOMERS RESPOSIBILITY TO CHECK WITH THEIR LOCAL AND STATE LAWS THAT THE ENGINE KIT THAT THEY ARE PURCHASING IS LEGAL AND PERMITTED TO INSTALL AND USE ON THEIR BICYCLE FOR ON-ROAD AND OFF-ROAD.
Pay no sales tax on this 4-stroke gas bike motor kit!
_______________________________________________________________
Bicycle Requirements:
This bicycle motor engine kit fits most mens 24" and larger bicycles which includes mountain, cruiser, chopper and road bikes with a V-frame with at least a 8.5" height clearance for the engine. Larger frame size requires drilling into bike frame and use of the universal face plate. Dimensions: This 49cc bicycle motor engine kit is about 8.5" height 7" length 5" width and fits on most standard 24" – 26" or 25mm 29mm frame bicycle frame tubes. Larger frame size requires drilling into bike frame and use the universal face plate. This engine kit only adds about 20 lbs to your bike. Orders received Monday - Friday by 3:00PM EST are eligible for
Same Day Shipping! Except for USPS which ships the next business day.
We can ship to PO BOXES at this time. Through UPS we offer many shipping methods and for International and Canadian shipping we suggest UPS STANDARD, (2-6 days; does not cover Customs Brokerage, Duties, and Taxes… these are charged to the consignee on delivery). We have found that this is the cheapest way to send packages to Canada. Skills & Experience: The buyer may need some basic hardware skills, tools, and it takes roughly around 2-3 hours to install and to do some adjustments and fine tuning. Notices & Disclaimer:
We cannot guarantee that this kit will fit your specific individual bike(s).
Operating a bike, motorized bicycle or bike with a bicycle engine kit installed involves some risk of serious bodily injury. Buyer accepts responsibility for any and all vehicle operation that may lead to personal injury, economic loss, social distress, other losses, costs and damages.
Seller is not responsible for injuries and/or damages resulting from operating this motorized bicycle or bicycle engine kit.
Seller is not responsible for misuse of this kit or any warranty after installation.
Not all motorized bicycles are allowed for on road use.
We make no guarantee as to the road legality of these bike motors.



Our gasoline operated products are NOT compliant with Environmental Protection Agency ( E.P.A. ) or California Air Resources Board (C.A.R.B) for the use on/off Public roads. Upon purchase, the buyer agrees to use products for racing (closed-course competition) only and NOT for on/off public roads.